Photoluminescent Environment-Friendly
we have the core technique for independently researching and developing photoluminescent materials, and successfully developed alkaline-earth aluminate and alkaline-earth silicate series photoluminescent pigment, which are broadly applied in the construction decoration, traffic and transportation, military devices, fire protection, industry, daily commodity and craftworks and other related industries. We have the annual producing capacity of 300 tons of photoluminescent pigment, 5million square meters of Photoluminescent self-adhesive vinyls, 10,0000 square meters of Photoluminescent PVC rigid sheet and 10,0000 square meters of Photoluminescent signs. Since the marketing of our products, the excellent quality and perfect technical support have won deep trust and appreciation from customers with a high reputation and good brand effect.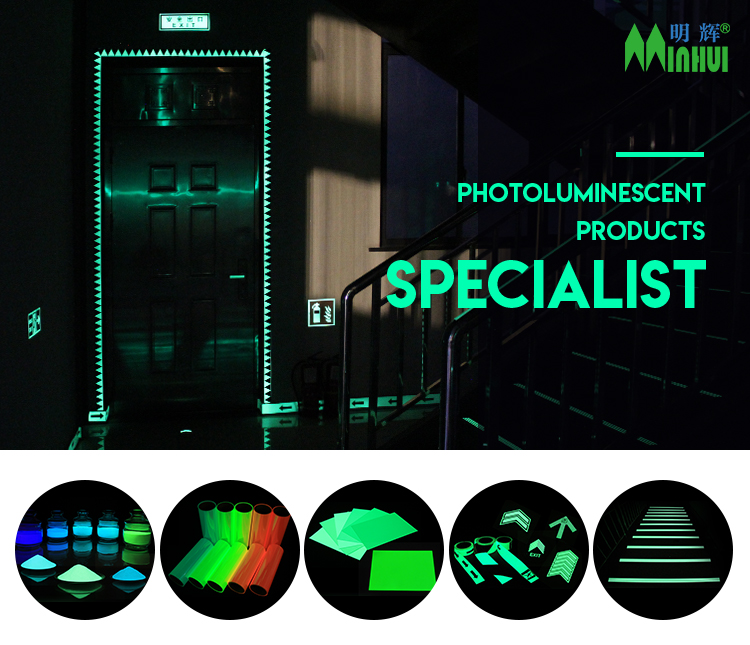 We Have a Feeling You Will Like
Photoluminescent pigments are a type of glow-in-the-dark powder which gathers energy from light and emits it to give a glowing effect. 
Get High performance photoluminescent films,Photoluminescent Self Adhesive Vinyl for safety and emergency exit signage. 
Photoluminescent traffic signage is suitable for blindspotswhere increased security is required but where no possibility of power installation exists.
Photoluminescent Rigid Sheet by a light plate, a light reflecting film, and a light emitting element composed of a transparent optical plate is a plate member .
Photoluminescent Safety Signs - Photoluminescent or glow in the dark signs use a material which self charges using ambient light.
MINHUI`s photoluminescent stone is a kind of synthetic aggregate,which is made from photoluminescent pigment and synthetic resin.

Photoluminescent Stair Tread Markers, are designed to provide a safe, illuminated escape route for building occupants during an evacuation in darkness.
photoluminescent Masterbatch  can be added to a variety of different materials, like PU (Polyurethane), PP (Polypropylene), PVC (Poly Vinyl Chloride), PE (Polyethylene),
photoluminescent tile composition made of a tile base and a matrix of photoluminescent material disbursed throughout the tile base. 
Our products have successively passed the inspection by the SGS and the State Academy of Science.  Our concept is "Researching technology of photoluminescent, creating culture of photoluminescent and producing products of photoluminescent".For more information, please contact us.