Photoluminescent rigid sheet, also known as photoluminescent panel, is a kind of glow in the dark substrate. It is a derivative product of photoluminescent film and can be printed on to make photoluminescent sign.
Our photoluminescent rigid sheet has 3 types: PVC photoluminescent rigid sheet, PET photoluminescent rigid sheet and aluminium photoluminescent rigid sheet. In today's short article, we will discuss three methods of making photoluminescent rigid sheet: adhesive method, thermal compression method and coating method.
Adhesive method
As the name suggest, this way is to glue together the glow in the dark film and the basal panel with adhesive. General adhesive can be used. The advantage of using adhesive to make photoluminescent rigid sheet is that the technique is relatively simple and easy to make. 
Our photoluminescent rigid sheet - glow in the dark view
Thermal compression method
The transparent resin film, photoluminescent film and the plastic or aluminum substrate are superimposed together, put into a laminate hydraulic press for heating and pressurizing. After heat preservation for a certain period of time, and then cooling and shaping, photoluminescent rigid sheet is made. Our standard PVC photoluminescent rigid sheet is made by thermal compression. It is great for silk-screen printing and inkjet printing and making photoluminescent signs.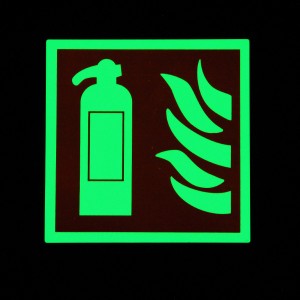 Photoluminescent fire-fighting sign made with our glow in the dark panel
Coating method
Coat a white layer, a glow in the dark layer, and a transparent protective layer on the basal panel(If the panel is white, the white layer can be skipped) to make glow in the dark rigid sheet. The thickness of each coating depends on the application.
Each method has its advantages and disadvantages. For example, the adhesive method is easy to make, so the price will also be lower, but you can peel off the top glow in the dark film from the basal panel relatively easily. Customers can choose which model to purchase depend on the budget, requirement on glow intensity, etc.
We provide size and pattern customization service for photoluminescent rigid sheet. If you are interested in purchasing or just want to learn more about the product, please contact our sales team.
---
Post time: Oct-24-2022