According to statistics, about 1.25 million people are killed and 20-50 million people are injured in road traffic accidents around the world every year. The statistics also shows that in the past five years, the traffic fatalities from 17 to 20 o'clock accounted for 26.67% of the total fatalities. This is known as the "17 to 20 o'clock phenomenon".
     Further analysis of the fatal accident data during 17 to 20 o'clock shows that non-automobile drivers and pedestrians made up about 65% of the deaths. Intersections without traffic lights and forks were most prone to having traffic accidents, especially at night. The reason was that due to the poor lighting at the intersection at night and the lack and imperfection of traffic safety facilities, many drivers lacked necessary safety awareness when driving through the intersection. They failed to take necessary measures to ensure safety such as slowing down or stopping and observing before passing the intersection. Thus they might ignore the pedestrians who were crossing the road at night, which can easily cause road accidents.
     At present, the general method to prevent accidents from happening is is to set up traffic lights to control traffic. But usually there are many villages along the non arterial roads such as National and Provincial Roads. Also, the installation and maintenance costs of traffic lights are relatively high, and too many traffic lights will affect traffic efficiency.
     Taking account into these problems and market needs, MINHUI pioneered the development of a road intersection safety assurance system based on our long afterglow lighting technology, directional reflection technology, photovoltaic LED lighting technology, wireless communication feedback technology, and satellite synchronization technology. This system mainly include the use of solar powered buried road studs, solar powered long afterglow luminous pedestrian crossing signs, satellite synchronous luminous crossing bollard, satellite synchronous buried luminous road signs, pressure-resistant aluminum self-luminous reflective road studs, solar powered long afterglow protruding road studs and other products.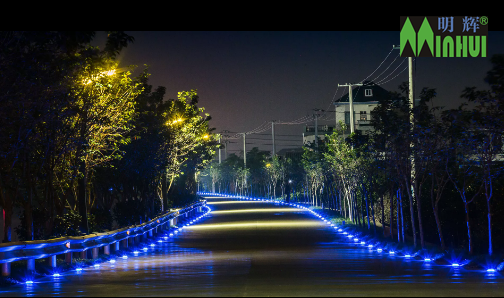 330 National Road, Jindong District, Jinhua, Zhejiang
     This series of products has the characteristics of high brightness, strong pressure resistance, and can be easily assembled and disassembled. After the installation of these products, the outline of the intersection will be clearer, and the warning function will be more obvious for night drivers. So as to ensure the safe passage of the intersection at night. MINHUI's products can largely help to reduce the occurrence of traffic accidents.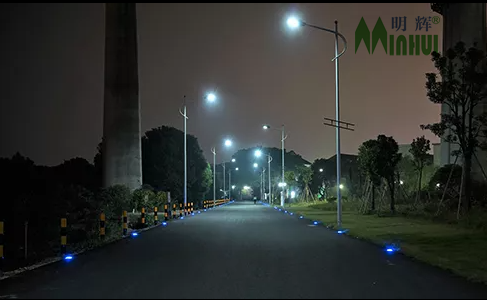 Jinniugang Village, Dingtang Town, Ningbo, Zhejiang
     With the promotion and participation of our company, the National Ministry of Communications and Zhejiang Province have successively promulgated the national standard "Highway Energy Storage Self-luminous Traffic Signs" (JT/T 967-2015), the Zhejiang provincial standard "Energy Storage Self-luminous Traffic Signs Setting Technology and Regulations" (DB33/T975-015) and "Technical Regulations for the Installation of Self-luminous Emergency Guidance Systems for Highway Tunnel Energy Storage" (DB33/T2033-2017).
---
Post time: Jun-25-2022