MHG – Aluminate Based Yellow Green Photoluminescent Pigment
Product Detail
Specification
Introduction
MH series photoluminescent pigments are made from alkaline earth aluminate, which is developed and manfactured by MINHUI since 2003. It is non-radioactive, non-toxic,very weatherproof, very chemically stable and with a long shelf life of 15 years. Compared to traditional glow in the dark pigment(zinc sulfide based), MINHUI's pigment can glow 10 times longer in the dark and 10 times brighter. After absorbing various visible light or ultroviolet light for 10-30 minutes, it can glow for more than 12 hours in the dark continously. Its light absorption and emission ability can be used indefintely and minimizes the emission of greenhouse gas, making our pigment the most environmental friendly and durable light sources. 
MH series has four subcategories according to luminous color: MHG yellow-green, MHB blue-green, MHSB sky-blue, MHP purple. Each category has different models sorted by luminance level and particle size. MHG Yellow-green photoluminescent pigment's chemical formula is SrAl2O4:Eu+2,Dy+3. It has a daylight color of light yellow and a luminance color of yellow green.
We also provide MHG in waterproof version. For strontium aluminate pigment's other colors(red, yellow, green, blue, orange, pink, etc.), please see MT series.
MH serie's photoluminescent pigment meets the US requirement of ASTM F963-16 (Standard Consumer Safety Specification on Toy Safety), Test Method CPSC-CH-E1003-09.1 for total Lead, and  ASTM F 963-16 (Clause 8.3) for soluable heavy metal; and registered for EU REACH standard in accordance with the REACH regulation (EC) No 1907/2006. 
We now owns 5 production lines of photoluminescent pigment and has the annual capacity to manufacture 500 tons of pigment. Our R&D team can also help you to develop a unique type of pigment that fully suits your application, with customized luminance level, glow length, grain size and color. We have 20 years experience of exporting and our photoluminescent matierals and products are loved by customers from all over the globe.
Exicitation Emission Spectrum For MHG Pigment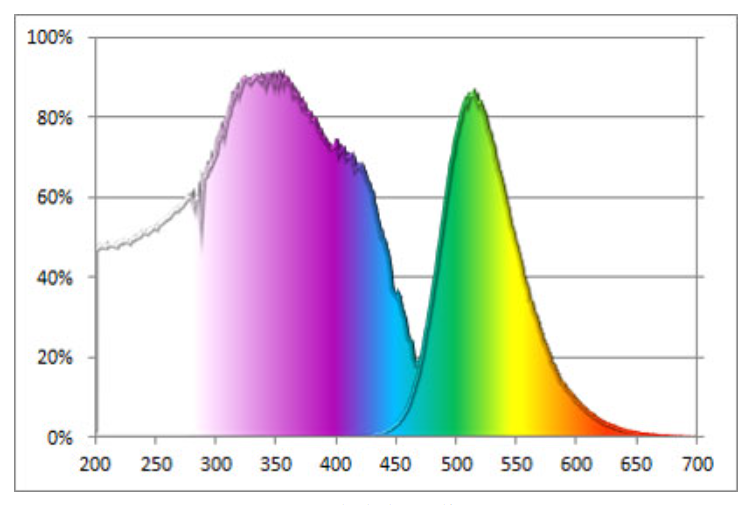 Application
Photoluminecent pigment can be mixed with resin, epoxy, paint, plastic, glass, ink, nail polish, rubber, silicone, glue, powder coating and ceramics to make their glow in the dark version. It has been widely applied to fire-fighting safety signs, fishing tool, craftworks, watches, textiles, toys and gifts, and so on.
For more information about photoluminescent pigment, please refer to our FAQS page
---
---
MHG Series Photoluminescent Pigment Specification
Model

Size (D50)um

Afterglow Intensity (mcd/㎡)

Glowing color (Night)
Appearance (Daytime)

10 min

60 min

Glow  time

MHG-6B

65~85

725

120

>12 hour

Yellow-green

Light-yellow

MHG-6C

45~55

480

85

MHG-6D

25~35

380

55

MHG-6E

5~15

280

39

MHG-6F

2~10

240

30

MHG-4B

65~85

640

105

MHG-4C

45~55

450

70

MHG-4D

25~35

320

42

MHG-4E

5~15

220

29

MHG-4F

2~10

190

23

MHG-2C

55~75

350

40

MHG-2D

15~45

250

32

MHG-1C

55~75

260

35

10hour

MHG-1D

15~40

200

25
Note:
1.Luminance test conditions: D65 standard light source at 1000LX luminous flux density for 10min of excitation.
2. Particle size B is recommended for production craft of pouring, reverse mould, etc. Particle size C and D are recommended for printing, coating, injection, etc. Particle size E and F are recommended for printing, wiredrawing, etc.
Send your message to us:
Write your message here and send it to us